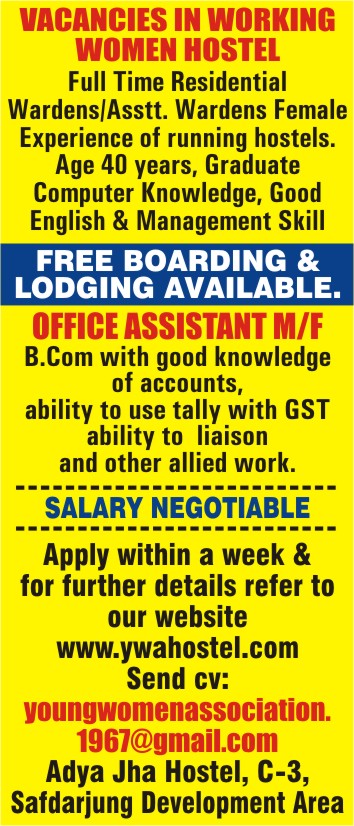 Vacancies in South Delhi Working Women's Hostel
Residential Lady Warden Job profile:
Responsibility of looking after day to day Hostel Management for 24 hours as an in charge of the hostel
Ability handle new admission of working women as per guide lines
Arrange meetings of management committees
Ability to liaison between mess contractor and occupants
Ability create and update occupants' details in the computer.
Ability to observe and report hostel requirements, repairs and if any discontents of the occupants in time to report the management
Minimum qualification:
Graduate and ability to communicate in writing and verbally
Good computer skills
Good interpersonal relation is an added value
Experience in girls hostel Management
Salary: negotiable depending upon years of experience in the management Girls' hostel.
She will be provided Accommodation and meals.
OFFICE ASSISTANT Male/Female Minimum qualification:
B.Com with good knowledge of accounts
Should be able to keep all records of incomes and expenditures
Maintain both soft and hard files related to the hostel
Very good computer
skills: Should have abilityto operate and create documents in   Ms words and excel
Knowledge of tally with GST is an added qualification
liaison and other allied work.
Good mannerism
Salary: negotiable according as experience and qualification.
Please apply within a week with CV through
Email :youngwomenassociation.1967@gmail.com
Adya Jha Hostel, C-3, Safdarjung Development Area, New Delhi – 110016